SOMNILOQUIES
Francia/Gran Bretagna/Usa 2017
DCP, colore, 73 min.
v.o. inglese sott. in italiano
Regia/Directed by
Lucien Castaing-Taylor, Véréna Paravel
Fotografia/Cinematography
Lucien Castaing-Taylor, Véréna Paravel
Montaggio/Editing
Lucien Castaing-Taylor, Véréna Paravel
Suono/Sound
Lucien Castaing-Taylor, Véréna Paravel, Mike Barr
Produttori/Producers
Valentina Novati (Norte)
Véréna Paravel (Sensory Ethnography lab)
Contatti/Contacts
arretetantecinema@gmail.com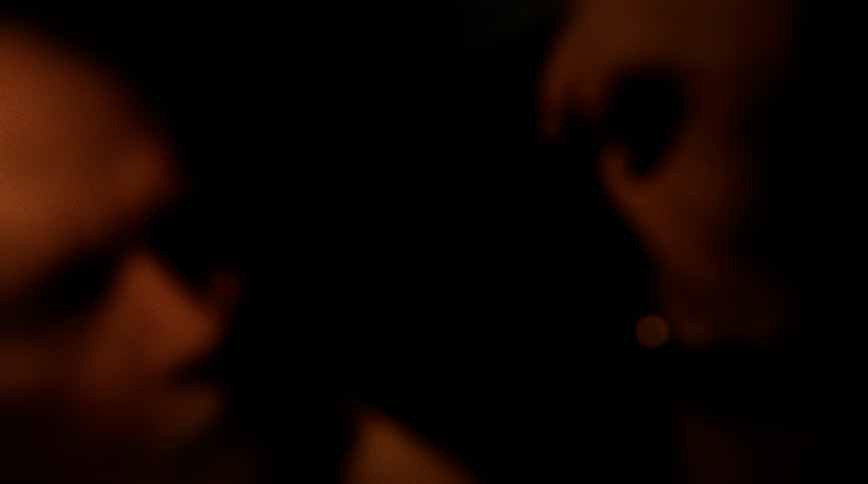 Viaggio onirico in compagnia dei sonniloqui di Dion McGregor, musicista newyorchese studiato come caso clinico per l'incredibile capacità di raccontare, in tempo reale e nel sonno, i suoi stessi sogni: una produzione ricchissima di storie, universi surreali e oscuri, umorismo e toni macabri registrati per sette anni dall'amico Mike Barr. I registi sondano la connessione tra corpo e anima, grazie alla capacità di un uomo di evadere dal proprio sé per mezzo di una straordinaria fantasia affabulatoria inconscia. Il corpo, seppure sfuocato, è sempre in campo, tramite di una percezione tattile smaterializzata in pura fascinazione visiva. L'opera più sfuggente dei due autori cerca una terza dimensione oltre il mondo concreto e la sospensione onirica: uno stato di inconsapevolezza eterea e fluttuante nel quale lo spettatore si ritrova cullato ed esposto allo stesso tempo, piacevolmente perso in un labirinto immaginario di vasi narrativi comunicanti che ne dilatano e amplificano le facoltà verso nuovi orizzonti di senso.
An oneiric journey accompanied by the sleep monologues of Dion McGregor, a New York musician who became a clinical case for his incredible ability to tell his own dreams while sleeping: a long series of stories, surreal and dark universes, humor and macabre tones taped by his friend Mike Barr for seven years. The filmmakers explore the connection between body and soul, thanks to a man's ability to escape from his own self through his extraordinary unconscious narrative fantasy. The body, albeit blurred, is always in the shot, means of a tactile perception dematerialized into pure visual fascination. The most elusive work of the two filmmakers seeks a third dimension beyond the real world and the dream suspension: a condition of ethereal and floating unconsciousness, in which the viewer finds himself cradled and exposed at the same time, pleasantly lost in an imaginary labyrinth of narrative communicating vessels that amplify his faculties toward new horizons of meaning.
Lucien Castaing-Taylor (1966) è il direttore del S.E.L. (Sensory Ethnography Lab) di Harvard ed è tra i
fondatori di "Visual Anthropology Review", rivista edita dall'American Anthropological Association. Ha curato l'edizione di Visualizing Theory: Selected Essays from V.A.R. 1990-1994 e di Cinema transculturale di David MacDougall (edito in Italia dall'I.S.R.E.).
Véréna Paravel (1971) antropologa e cineasta, insegna all'Università di Harvard e a Parigi. Alcuni suoi lavori sono esposti in maniera permanente al MOMA di New York; altri sono stati presentati alla Tate, al Whitney Biennial e a documenta.
Lucien Castaing-Taylor (1966) studied Philosophy, Theology, and Anthropology. He is a filmmaker, anthropologist and ethnographer who works as a professor of Visual Arts and Anthropology at Harvard University, where he is also the director of the Sensory Ethnography Lab. He edited Visualizing Theory: Selected Essays from V.A.R. 1990-1994 and Transcultural Cinema by David MacDougall (published in Italy by I.S.R.E.)
Véréna Paravel (1971) anthropologist and filmmaker, she teaches at Harvard University and in Paris. Some of her film works are permanently exposed at MOMA in New York; others have been presented at Tate, Whitney Biennal and documents.