LEVIATHAN
Usa 2012
DCP, colore, 89 min.
senza dialoghi / no dialogues
Regia/Directed by
Lucien Castaing-Taylor, Véréna Paravel
Fotografia/Cinematography
Lucien Castaing-Taylor, Véréna Paravel
Montaggio/Editing
Lucien Castaing-Taylor, Véréna Paravel
Suono/Sound
Ernst Karel
Produttori/Producers
Arréte Ton Cinema
Contatti/Contacts
arretetantecinema@gmail.com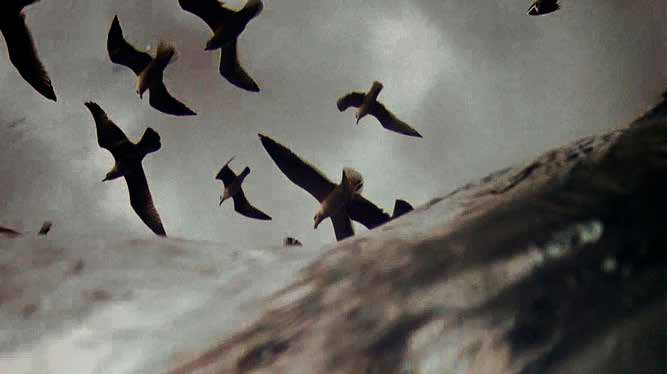 Girata su un peschereccio al largo della costa di Boston, un'opera che si avventura ai limiti del filmabile: la coppia di antropologi-registi descrive il meccanismo stritolante e disumanizzante dell'economia di sfruttamento, partendo dalle teorie di Hobbes e servendosi di una dozzina di telecamere Go-Pro attaccate alle reti o gettate in mare. Fuori da ogni coordinata antropocentrica, lo spettatore si ritrova calato in una modalità di percezione immersiva e panica, spaesante e totalizzante, tra flussi di stelle marine, stormi di gabbiani che planano a filo d'acqua e pesci che si dibattono nelle reti. Un'opera di straordinaria audacia formale e potenza visiva, capace di ribadire a ogni nuova inquadratura la necessità per qualunque progetto di documentazione etnografica di porre al centro delle proprie preoccupazioni metodologiche la questione di come inquadrare cioè che ci è sconosciuto. Un film radicale e innovativo, una pietra miliare del cinema contemporaneo, con la quale si faranno a lungo i conti.
Filmed aboard a fishing vessel off the coast of Boston, Leviathan pushes the limits of the filmable: the two anthropologists and filmmakers describe the crushing and dehumanizing mechanism of the exploitation economy, starting from Hobbes theories and using a dozen Go-Pro cameras attached to fishing nets or dropped into the sea. Out of any anthropocentric coordinate, the viewer finds himself immersed in a panic, disorienting and totalizing experience, among streams of starfish, flocks of seagulls gliding on the surface of water and fish struggling in the nets. A work of extraordinary formal innovation and visual power, able to stress with every new shot the need for any ethnographic documentation project to focus its methodological concerns on how to film something unknown. A radical and innovative film, a milestone in contemporary cinema, which we will deal with for a long time.  
Lucien Castaing-Taylor (1966) è il direttore del S.E.L. (Sensory Ethnography Lab) di Harvard ed è tra i
fondatori di "Visual Anthropology Review", rivista edita dall'American Anthropological Association. Ha curato l'edizione di Visualizing Theory: Selected Essays from V.A.R. 1990-1994 e di Cinema transculturale di David MacDougall (edito in Italia dall'I.S.R.E.).
Véréna Paravel (1971) antropologa e cineasta, insegna all'Università di Harvard e a Parigi. Alcuni suoi lavori sono esposti in maniera permanente al MOMA di New York; altri sono stati presentati alla Tate, al Whitney Biennial e a documenta.
Lucien Castaing-Taylor (1966) studied Philosophy, Theology, and Anthropology. He is a filmmaker, anthropologist and ethnographer who works as a professor of Visual Arts and Anthropology at Harvard University, where he is also the director of the Sensory Ethnography Lab. He edited Visualizing Theory: Selected Essays from V.A.R. 1990-1994 and Transcultural Cinema by David MacDougall (published in Italy by I.S.R.E.)
Véréna Paravel (1971) anthropologist and filmmaker, she teaches at Harvard University and in Paris. Some of her film works are permanently exposed at MOMA in New York; others have been presented at Tate, Whitney Biennal and documents.