Italia 2019
DCP, colore, 43 min.
v.o. italiano, dialetto sud-tirolese sott. italiano
Regia/Directed by
Antonio Di Biase
Fotografia/Cinematography
Luca Zontini
Montaggio/Editing
Iain Thomas Beairsto
Suono/Sound
Iain Thomas Beairsto
Produzione/Producion
ZeLIG school for documentary, television and new media
Contatti
emanuele.vernillo@zeligfilm.it
Nel cuore della città di Bolzano troneggia da più di otto secoli il Convento dei Francescani. All'interno delle mura il tempo scorre lentamente: la vita quotidiana degli ultimi nove frati rimasti s'intreccia con l'afflusso dei fedeli, dei turisti, dei mendicanti. Così il convento prende vita, entrando in una routine fatta di piccole voci, passi e lunghi silenzi: un piccolo mondo a sé all'interno del quale lo spazio e il tempo sembrano essersi cristallizzati.
For more than eight centuries, the Franciscan Convent has been towering over the city of Bolzano. Inside of its walls, time passes slowly: the daily life of the last nine Friars is intertwined with the influx of believers, tourists and beggars. The Convent thus comes alive and gets into a routine of whispered conversations, echoing footsteps and long silences: a small world on its own in which time and space seem to have crystallized.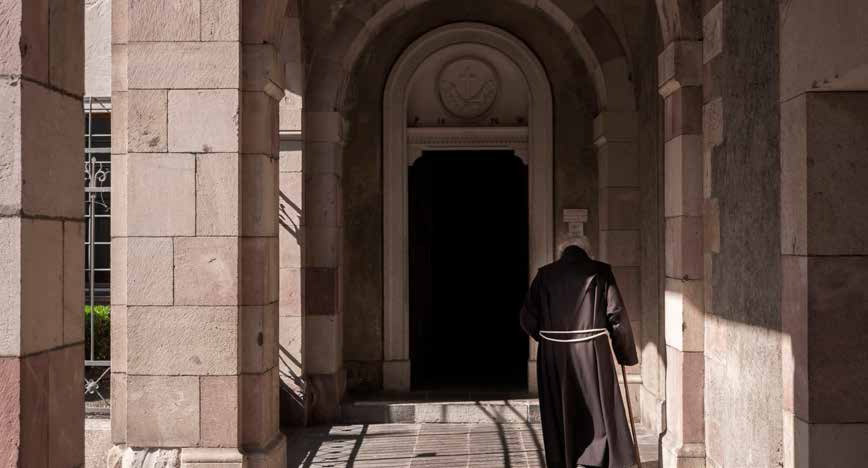 Antonio Di Biase (Pescara, 1994). Diplomato presso l'Accademia di Belle Arti di Brera. La sua ricerca artistica è incentrata sul dialogo tra la storia dell'arte antica e il linguaggio documentaristico. Il suo corto Nuova Zita (2017) è stato selezionato in concorso al Torino Film Festival e a Filmmaker Festival. Il successivo De Sancto Ambrosio (2018) ha avuto la prima internazionale al Festival di Jihlava.
Antonio Di Biase (Pescara, 1994) graduated from Brera Academy of Fine Arts in Milan. His artistic research focuses on the relationship between documentary filmmaking and ancient art history. His short film Nuova Zita (2017) screened in competition at Torino Film Festival and Filmmaker Festival. De Sancto Ambrosio (2018) premiered at Jihlava Festival.