FOREIGN PARTS
Usa 2010
DCP, colore, 81 min.
v.o. inglese sott. in italiano
Regia/Directed by
Véréna Paravel, J.P. Sniadecki
Fotografia/Cinematography
Véréna Paravel, J.P. Sniadecki
Montaggio/Editing
Véréna Paravel, J.P. Sniadecki
Suono/Sound
Véréna Paravel, J.P. Sniadecki
Produttori/Producers
Sensory Ethnography Lab
Contatti/Contacts
arretetantecinema@gmail.com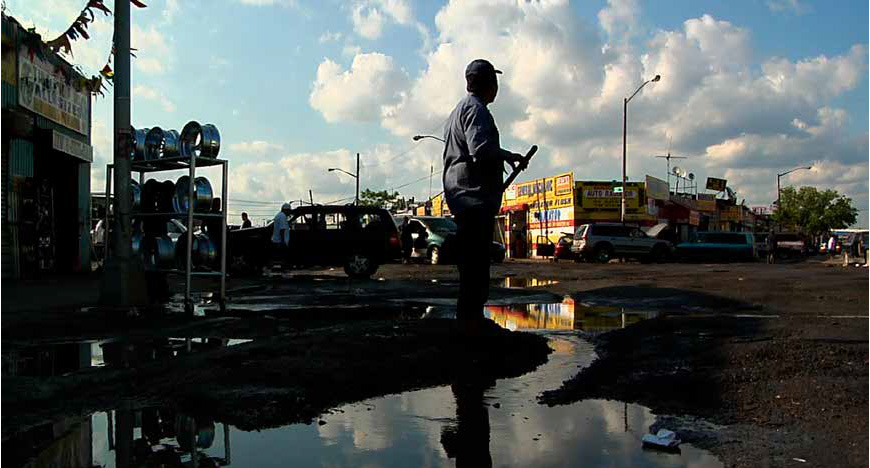 All'ombra del nuovo stadio dei New York Mets, l'area di Willets Point nel quartiere di Queens è una zona industriale segnata dalla demolizione. Colma di discariche e sfasciacarrozze, priva di marciapiedi e corridoi di scolo, sembra essere indietro anni luci rispetto agli standard di sviluppo urbano. Ma tra i rifiuti si muove un'umanità che si costituisce come comunità autonoma, sulla base di pratiche di commercio alternative, in una lotta quotidiana per la sopravvivenza. Fuori da qualunque retorica ricattatoria, Paravel e Sniadecki indagano un microcosmo sociale nel quale il paragone tra rottami meccanici e reietti umani è fuori luogo se non come rimosso delle istituzioni, pronte a varare un piano di rilancio del quartiere da 3 miliardi di dollari che trasformerà i settantacinque acri di Willets Point in zona residenziale, alberghiera e commerciale. L'intreccio di esistenze, etnie e parlate differenti compone un mosaico cooperativo grazie al quale tutto ciò che può essere smontato può essere anche ricomposto, ricostruito.
In the shadow of the New York Mets' new stadium, the Willets Point section of Queens is an industrial zone fated for demolition. Filled with scrapyards and auto salvage shops, lacking sidewalks or sewage lines, the area seems light years behind urban development standards. But among the rubbish and the wreckage, there are humans constituted as an autonomous community based on alternative trade practices, in a daily struggle for survival. Keeping at distance any rhetoric, Paravel and Sniadecki look into a social microcosm where the comparison between mechanical scrap and human outcasts is out of place except for the repressive institutions, who are ready to launch a 3-billion-dollar recovery plan for the district, to transform the seventy-five acres of Willets Point in a residential, touristic and commercial area. The mix of different lives, ethnic groups and talks creates a cooperative mosaic, where everything that can be dismantled can also be recomposed and rebuilt.  
Véréna Paravel (1971) antropologa e cineasta, insegna all'Università di Harvard e a Parigi. Alcuni suoi lavori sono esposti in maniera permanente al MOMA di New York; altri sono stati presentati alla Tate, al Whitney Biennial e a documenta.
Véréna Paravel (1971) anthropologist and filmmaker, she teaches at Harvard University and in Paris. Some of her film works are permanently exposed at MOMA in New York; others have been presented