Macedonia del Nord 2019
DCP, colore, 85 min.
v.o. turco sott. in italiano
national premiere
Regia e sceneggiatura/Written and directed by:
Ljubomir Stefanov, Tamara Kotevska
Fotografia/Cinematography:
Fejmi Daut, Samir Ljuma
Suono/Sound:
Rana Eid
Montaggio/Editing:
Atanas Georgiev
Musica/Music:
Foltin
Produttore/Producer:
Atanas Georgiev
Produzione/Production:
Trice Films
Contatti/Contacts:
info@deckert-distribution.com
In un villaggio sperduto e semi-abbandonato nel cuore della Macedonia rurale, una donna poco più che cinquantenne, Hatidze, vive sola con la vecchia madre, senz'acqua né elettricità. Dedica la vita all'apicoltura, arrampicandosi sui tortuosi percorsi collinari che circondano la propria casa per estrarre un nido dalle fessure di roccia. La vita di Hatidze scorre in armonia con la natura e le sue api, fino a quando l'arrivo nel villaggio del padre-padrone Hussein mina il fragile equilibrio della micro-comunità. Pièce di grande potenza visiva girata nel corso di tre anni, Honeyland coniuga il lavoro immersivo nella vita quotidiana della protagonista con una raffinata sensibilità narrativa. Con il loro primo lungometraggio, Ljubomir Stefanov e Tamara Kotevska compongono un ritratto epico di donna, eroina dai tratti antichi ma dal sapore contemporaneo, figura generosa e sensibile in lotta per la sopravvivenza contro chi si dispone a minacciare gli equilibri ecologici e ambientali di un territorio per una mera logica di guadagno.
In a remote and semi-abandoned village in the hearth of rural Macedonia, a middle-aged woman, Hatidze, lives alone with her old mother without water and electricity. She dedicates her life to beekeeping, climbing the tortuous hilly paths that surround her house to pull nests out of rock fissures. Hatidze lives in harmony with nature and her bees, until the arrival in the village of the controlling father Hussein breaks the delicate balance of the micro-community. A work of great visual power shot over three years, Honeyland dips into the protagonist's daily life with a refined narrative sensibility. With their first feature film, Ljubomir Stefanov and Tamara Kotevska create an epic portrait of a woman, a heroine with ancient features and a contemporary flavour, a generous and sensitive figure fighting for survival against who threatens the ecological and environmental balance of a land just for profit.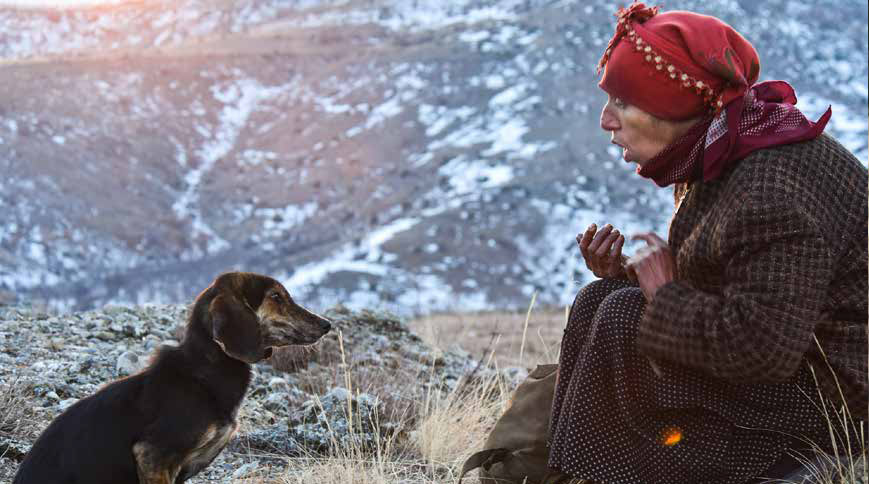 LJUBOMIR STEFANOV è nato a Skopje (Macedonia) nel 1975. Da oltre 20 anni sviluppa e produce documentari e format audiovisivi nell'ambito della salvaguardia ambientale e dello sviluppo umano.
TAMARA KOTEVSKA è nata a Prilep (Macedonia) nel 1993. Laureata presso la Facoltà di Arte Drammatica di Skopje, lavora come regista freelance. Entrambi vivono nella capitale macedone. Honeyland è il loro primo lungometraggio documentario, premiato col World Cinema Grand Jury Prize for Documentary al Sundance Film Festival 2019.
LJUBOMIR STEFANOV was born in Skopje (Macedonia) in 1975. He has an over-20 years' experience in the development and production of documentaries and audiovisual formats related to environmental issues and human development.
TAMARA KOTEVSKA was born in Prilep (Macedonia) in 1993. She graduated from the Faculty of Dramatic Arts of Skopje and now works as a freelance director.
They both live in the Macedonian capital. Honeyland is their first feature film and it was awarded the World Cinema