BRAGUINO
Francia/Finlandia 2017
DCP, colore, 50 min.
v.o. russo sott. in italiano
Regia/Directed by
Clément Cogitore
Fotografia/Cinematography
Sylvain Verdet
Montaggio/Editing
Pauline Gaillard
Suono/Sound
Julien Ngo Trong, Franck Rivolet
Musica/Music
Éric Bentz
Produttori/Producers
Cédric Bonin, Pascaline Geoffoy, Kaarle Aho
Produzione/Production
Seppia Film, Making Movies
In coproduzione con ARTE GEIE – La Lucarne
Contatti/Contacts
mgondre@indiesales.eu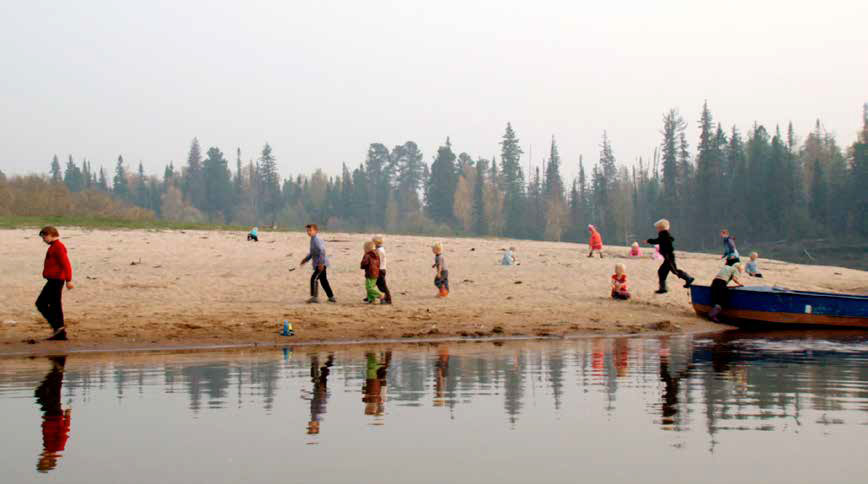 Nel mezzo della taiga siberiana, a quattrocentocinquanta miglia dal villaggio più vicino, vivono due famiglie: i Braguine e i Kiline. Non c'è strada che conduca in questo luogo: l'unico modo per raggiungerlo è compiere un lungo viaggio sul fiume Yenissei, prima in barca, poi in elicottero. Le due famiglie non dialogano tra loro e vivono secondo regole proprie, completamente autosufficienti, separate da un piccolo corso d'acqua. Nel mezzo, un isolotto sul quale si sta costituendo un'altra comunità, libera e imprevedibile, composta dai bambini delle due famiglie. Fiaba crudele nella quale lo spirito selvaggio della natura che circonda un isolato insediamento umano fa da scenario per un conflitto ancestrale, quello dell'uomo con l'estraneo, in tutte le sue forme e manifestazioni. Immagini dalla forza primigenia compongono un'opera radicale, nata come progetto crossmediale che ha preso la forma di un'installazione, un libro fotografico e un film.
In the middle of the Siberian taiga, four hundred and fifty miles from the nearest village, two families, the Braguine and the Kiline, are living near each other. No road leads to this place. The only way to reach it is a long journey on the Yenissei River, first by boat, then by helicopter. The two families do not talk to each other and live according to their own rules, completely self-sufficient, separated by a small stream. In the middle, a small island on which another free and unpredictable community is taking form, a community composed by the children of the two families. A cruel fairy tale in which the wild spirit of nature surrounding an isolated human settlement, provides the backdrop for an ancestral conflict – the conflict of the human being with the foreign, the extraneous, in all its forms and manifestations. The primal force of the images give life to a radical work, born as a cross-media project that took the form of an installation, a photographic book and a film.
Clément Cogitore (1983) dopo aver studiato a l'École supérieure des arts décoratifs di Strasburgo e a Le Fresnoy, ha cominciato a lavorare come regista e videoartista. I suoi film sono stati presentati alla Quinzaine des réalisateurs di Cannes, a Locarno, Lisbona, Montreal e al Torino Film Festival. Braguino è il suo secondo film.
Clément Cogitore (1983) After studying at the École supérieure des arts décoratifs in Strasbourg and in Le Fresnoy, he began working as a director and video artist. His films were presented at the Quinzaine des réalisateurs in Cannes, Locarno, Lisboa, Montreal and at the Torino Film Festival. Braguino is his second film.