Regia // Directed by Paul Meyer
Soggetto // Story Paul Meyer
Fotografia // Cinematography Freddy Rents
Montaggio // Editing Roland De Salency, Paul Meyer, Rose Tuytschaver
Suono // Sound André Goeffers
Musica // Music Arsène Soufrriau
Produzione // Production Paul Meyer, Maurice Tasman
Contatti // Contacts cinetecasarda@gmail.com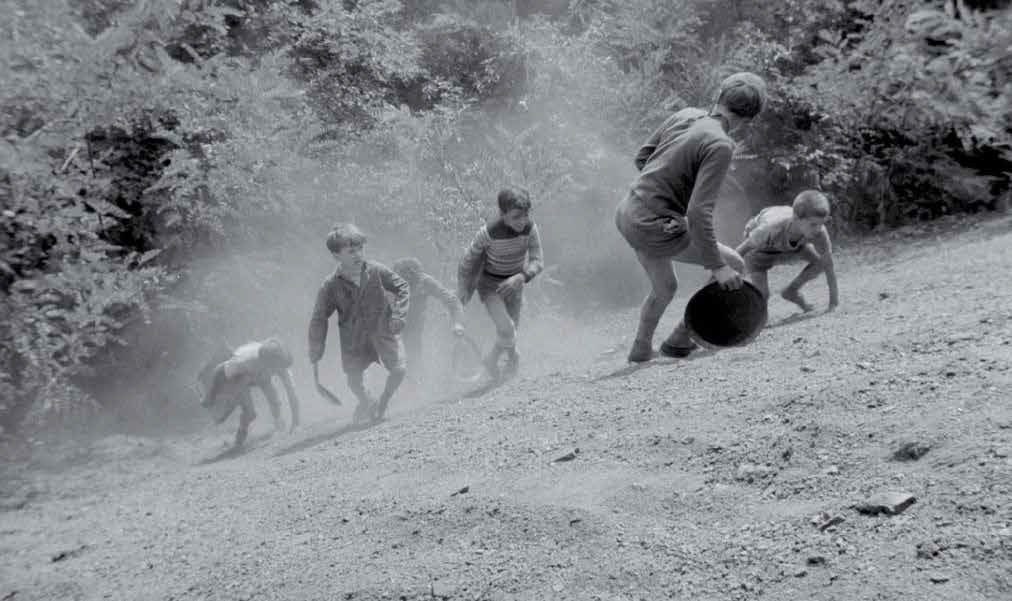 Tre anni dopo la catastrofe di Marcinelle, il ministero dell'Istruzione pubblica del Belgio commissiona a Paul Meyer un cortometraggio in grado di illustrare i miglioramenti nella vita degli emigrati italiani in Belgio e le meraviglie dell'integrazione dei figli dei minatori nelle scuole. Ma quando il regista arriva nella regione delle miniere, la sua macchina da presa racconta una storia ben diversa: come quella, drammatica e crudele, di una famiglia di Ula Tirso trasferitasi nel Borinage in cerca di fortuna e di riscatto. Scolpito con il nero della polvere di carbone e il grigio opprimente del cielo belga, Già vola il fiore magro (da un verso di Quasimodo) è il miglior film mai realizzato sulla crudeltà dell'emigrazione, l'eterna bugia dell'"integrazione sociale", il dolore dello sradicamento e la vergogna dello sfruttamento. Un'opera a metà strada tra Buñuel e Rossellini che costrinse il suo regista, denunciato per appropriazione di fondi pubblici, all'emarginazione e all'inattività.
Three years after the Marcinelle catastrophe, the Belgian Ministry of Public Education commissioned Paul Meyer a short film to illustrate improvements in the lives of Italian immigrants in Belgium and the marvels of the integration of miners' children into schools. But when the director gets to the mining region, his camera tells a very different story: like that, dramatic and cruel, of a family of Ula Tirso who moved to Borinage in search of luck and redemption. Sculpted with the black of the coal dust and the oppressive grey of the Belgian sky, Già vola il fiore magro (from a verse by Quasimodo) is the best film ever made on the cruelty of emigration, the eternal lie of "social integration", the pain of eradication and the shame of exploitation. A work halfway between Buñuel and Rossellini that forced his director, denounced for appropriation of public funds, to marginalization and inactivity.
Paul Meyer (1920-2007) si diploma alla École nationale supérieure d'architecture et des arts décoratifs e si dedica a teatro e cinema, realizzando cortometraggi e film per il cinema e la TV dal forte afflato sociale, da La fornace (1956) a Questo pane quotidiano (1962-66). Già vola il fiore magro (1960) è il suo capolavoro.
Paul Meyer (1920-2007) graduated from the École nationale supérieure d'architecture et des arts décoratifs and devoted himself to theater and cinema, directing shorts and films for cinema and TV with a strong social commitment, from La fornace (1956) to Ce pain quotidian (1962-66). Déjà s'envole la fleur maigre (1960) is his masterpiece.