Italia 2019
DCP, colore, 22 min.
v.o. italiano, francese sott. italiano
Regia/Directed by
Susanna Formenti, Paulina Guccione, Chiara Valenzano
Fotografia/Cinematography
Susanna Formenti, Paulina Guccione, Chiara Valenzano
Montaggio/Editing
Susanna Formenti, Paulina Guccione, Chiara Valenzano
Suono/Sound
Susanna Formenti, Paulina Guccione, Chiara Valenzano
Musiche/Music
Vittorio Duò
Produzione/Production
Civica Scuola di Cinema "Luchino Visconti" di Milano
Contatti
g.bianco@fondazionemilano.eu
È estate inoltrata e il Dio Cucco è arrabbiato: nella valle delle Marche sono giunti oltre duecento guerrieri per l'annuale combattimento in onore della Dea del Cupale. Accompagnati dai racconti epici di Arguto, il Prete Re, entriamo nel mondo della Cocon: scopriamo i volti, i costumi e le tradizioni del popolo della valle, assistiamo alla formazione delle armate guidate da Orco e da Tigre, e prepariamoci con loro al grande scontro finale.
It is late in the summer and the God Cucco is angry: over two hundred warriors have arrived in the valley of the region Marche for the annual fight in honor of the Goddess of Cupale. Accompanied by the epic tales of Arguto, the Priest King, we enter the world of the Cocon: we discover the faces, the customs and traditions of the people of the valley, we witness the formation of the troops led by Orco and Tigre, and we get ready with them for the great final battle.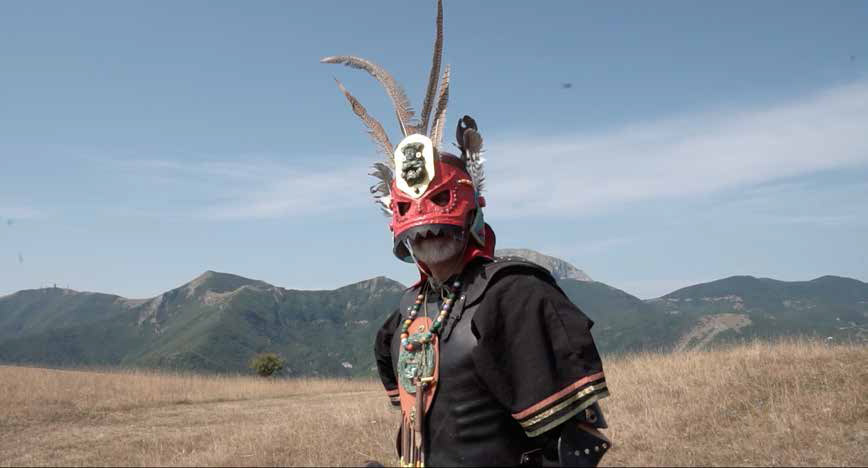 Susanna Formenti (Milano, 1993), laureata in economia e management per l'arte e la cultura, prosegue con il master in management dell'audiovisivo.
Paulina Victoria Guccione (New York, 1993). Nel 2017 si iscrive alla Civica Scuola di Cinema Luchino Visconti dove frequenta i corsi di cinema e documentario.
Chiara Valenzano (Napoli, 1997) laureata all'accademia delle Belle Arti di Brera di Milano in nuove tecnologie dell'arte.
Susanna Formenti (Milan, 1993) after graduating in Economics and Management for Arts and Culture, she enrolls in a master in Audiovisual Management.
Paulina Victoria Guccione (New York, 1993). In 2017 she enrolls at the Civica Scuola di Cinema Luchino Visconti, where she attends classes on film and documentary.
Chiara Valenzano (Naples, 1997) graduated from the Brera Academy of Fine Arts of Milan in New Techonologies of Art.