CANIBA
Usa 2017
DCP, colore, 96 min.
v.o. giapponese sott. in italiano
Regia/Directed by
Lucien Castaing-Taylor, Véréna Paravel
Fotografia/Cinematography
Lucien Castaing-Taylor, Véréna Paravel
Montaggio/Editing
Lucien Castaing-Taylor, Véréna Paravel
Suono/Sound
Nao Nakazawa, Lucien Castaing-Taylor, Véréna Paravel, Bruno Ehlinger
Produttori/Producers
Valentina Novati (Norte)
Véréna Paravel (Sensory Ethnography lab)
Contatti/Contacts
semira@elledriver.eu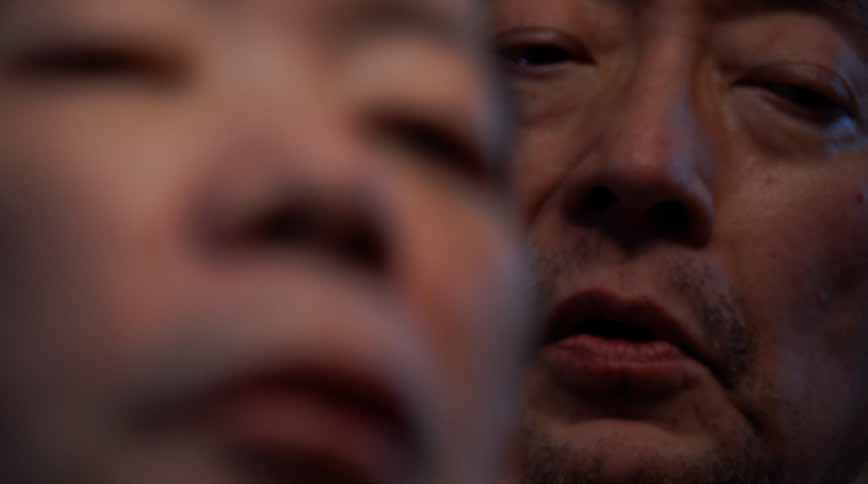 Studente alla Sorbone di Parigi, Issei Sagawa viene arrestato il 13 giugno 1981 mentre cerca di svuotare due valigie insanguinate contenenti i resti della compagna di corso Renée Hartevelt. Pochi giorni prima l'ha uccisa nel proprio appartamento, divorandone poi parti del cadavere. Dichiarato insano di mente, ha fatto ritorno in Giappone dove, messo al bando dalla società, ha vissuto del proprio crimine per oltre trent'anni, recitando in film porno, scrivendo romanzi e manga in cui ha rievocato il delitto nel dettaglio, persino lavorando saltuariamente come critico gastronomico. Con Caniba, Castaing-Taylor e Paravel conducono il concetto di antropologia condivisa verso territori inesplorati e si confrontano con uno dei tabù più resistenti: il desiderio umano di assimilare l'altro. Un gesto d'amore replicato nella scelta dei registi di stabilire una prossimità totale con il soggetto filmato, in preda a uno stato di apparente estasi inebetita, invitato a un atto di cannibalismo reciproco. Il cinema come antropofagia condivisa.
A student at the Sorbonne in Paris, Issei Sagawa is arrested the 13th of June 1981 while trying to empty two bloody suitcases containing the remains of his classmate Renée Hartevelt. A few days before, he killed her in his apartment and devoured parts of the corpse. Declared legally insane, he returned to Japan. Banished from society, he has lived off his crime for more than 30 years, by performing in porn films, writing novels and manga comics recreating the murder in detail, and occasionally working as food critic. With Caniba, Castaing-Taylor and Paravel lead the concept of shared anthropology towards unexplored territories and face one of the most resistant taboos: the human desire to assimilate the other. An act of love reproduced in the choice of the filmmakers to establish a total closeness to the character, in the midst of a state of apparent dazed ecstasy, invited to an act of mutual cannibalism. Cinema as a shared anthropophagy.
Lucien Castaing-Taylor (1966) è il direttore del S.E.L. (Sensory Ethnography Lab) di Harvard ed è tra i
fondatori di "Visual Anthropology Review", rivista edita dall'American Anthropological Association. Ha curato l'edizione di Visualizing Theory: Selected Essays from V.A.R. 1990-1994 e di Cinema transculturale di David MacDougall (edito in Italia dall'I.S.R.E.).
Véréna Paravel (1971) antropologa e cineasta, insegna all'Università di Harvard e a Parigi. Alcuni suoi lavori sono esposti in maniera permanente al MOMA di New York; altri sono stati presentati alla Tate, al Whitney Biennial e a documenta.
Lucien Castaing-Taylor (1966) studied Philosophy, Theology, and Anthropology. He is a filmmaker, anthropologist and ethnographer who works as a professor of Visual Arts and Anthropology at Harvard University, where he is also the director of the Sensory Ethnography Lab. He edited Visualizing Theory: Selected Essays from V.A.R. 1990-1994 and Transcultural Cinema by David MacDougall (published in Italy by I.S.R.E.)
Véréna Paravel (1971) anthropologist and filmmaker, she teaches at Harvard University and in Paris. Some of her film works are permanently exposed at MOMA in New York; others have been presented at Tate, Whitney Biennal and documents.