BEL-79
Bielorussia 2018
DCP, b/n e colore, 38 min.
v.o. bielorusso sott. in italiano
Regia/Directed by
Olga Prusak
Fotografia/Cinematography
Olga Prusak
Montaggio/Editing
Olga Prusak, Eugeny Vrublevski
Suono/Sound
Eugeny Vrublevski
Produzione/Production
Volia Chajkouskaya (Volia Films)
Contatti/Contacts
chajkouskaya@gmail.com
+375 29 716 81 71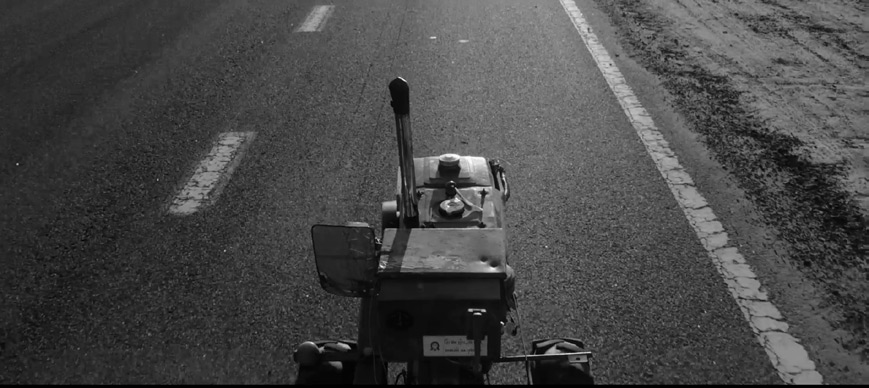 Cos'è il Paradiso perduto? Cosa desideriamo disperatamente? E come trovarlo? Queste domande sono come una spina nel cuore di molti, e in particolare per Oleg, reietto di una piccola città bielorussa, noto per il suo vagabondare per le strade con un piccolo trattore. Quando comprende che la sua lotta con la solitudine non porterà i risultati attesi, l'uomo nuota verso un'isola segreta abbandonando momentaneamente il suo partner meccanico e rimpiangendo di non avere delle ruote BEL-79 che gli permetterebbero di attraversare l'acqua… La solitudine di un uomo, il suo allontanamento dalla comunità e la sua lotta disperata contro la desolazione sono al centro del primo film di Olga Prusak, un'indagine poetica sull'anima di un uomo i cui pensieri inquieti gli fanno varcare la linea demarcata dall'adeguatezza sociale e di interrogarsi sulla perdita di unità con gli altri. Le ruote BEL-79 diventano una satira del processo tecnologico, il sogno della padronanza umana sulla natura e l'innocente ricerca di un paradiso perduto
What is Paradise Lost? What do we desperately long for? And how to find it? These questions are like a thorn in the heart of many, and especially for Oleg, outcast of a small Belarusian town, known for wandering along its streets with a small tractor. Understanding that his struggle with loneliness won't bring the expected results, he swims to a secret island leaving his companion machine behind and regretting not having BEL-79 wheels that could let him cross the water… The loneliness of man, his estrangement from the community and his desperate struggle with desolation are at the core of Olga Prusak first film work, a poetic inquiry into the soul of a man whose restless thoughts let him step across the social adequacy line and make him wonder about the loss of unity with the others. BEL-79 wheels are a mockery of technological process, the dream of human mastery over nature, and the innocent quest to find Paradise Lost.
Olga Prusak (1987) si è laureata nel 2010 presso il Dipartimento di relazioni internazionali presso l'Università statale bielorussa. Nel 2016 ha vinto il premio Tom Stoppard "Bright Debut", durante l'evento "Free Theatre" alla Biennale Internazionale di Modern Dram. Bel-79 è il suo primo film.
Olga Prusak (1987) graduated in 2010 in the Department of International Relationships at the Belarusian State University. In 2016 she won the Tom Stoppard Prize "Bright Debut", 'Free Theatre' event, International Biennale of Modern Dram. Bel-79 is her first film.